Last updated on March 1, 2013
Uppdatering 19:15
Inte så mycket nytt. NISA (japanska strålskyddsmyndigheten) har inte släppt någon statusuppdatering, inte heller TEPCO eller JAIF.  Toshiba och Hitatchi har skickat ingenjörer för att hjälpa till vid Fukushima.
The company said dozens of its engineers are set to instruct workers at the plant operated by TEPCO about the usage of pumps to inject water into the plant's reactors, adding the firm has already sent motors to activate the pumps at the facility.
I en tidigare notis som jag inte har länk till så stod det att arbete var på väg att återställa elektricitet till verket, det vore fenomenalt bra ifall man lyckas med det. Kyodo har som vanligt en bra sammanfattande artikel över läget.  Vi väntar ännu med andan i halsen alltså.
Uppdatering 16:51
Detta dök just upp!
TEPCO says the water level at Fukushima Daiichi no.2 reactor is recovering smoothly
Uppdatering 14:52
Det är väldigt olustigt att TEPCO inte nämner ett ord om bränslebassängerna i reaktorbyggnad 1 och 3. Vi vet att nått händer i bassängen i reaktorbyggnad 4. Av någon anledning brann det där, men olika källor påstår olika saker. Vissa säger att bränslet brann, vissa säger att det var något annat. Vatten kan ju som vi vet inte brinna, så vad var det isåfall. Om bränslet brunnit så innebar det att nivån i bassängen sjunkit över 10 meter och exponerat bränsleknippena för luften under nog lång tid för att de ska bli varma nog att kapslingen ska börja brinna. Men det verkar inte logiskt då vattenflödet som krävs för att hålla upp vattennivån i bassängen gentemot den lilla effekten knippena producerar är väldigt låg.
Just nu är det flera mysterier som pågår, men tystnaden runt bassängerna i 1an och 3an är inte betryggande.
Uppdatering 14:01
Senaste JAIF uppdateringen av läget, tidsstämplad till ungefär 3 timmar sen. Det sägs att kylningen av reaktorer 1, 2 och 3 är stabil eftersom trycket bibehålls inuti. Oklart om de menar inuti reaktortankarna eller inuti inneslutningarna. Om det är inneslutningarna så låter det lovande med tanken på brottet i 2ans inneslutning. Om man lyckas bibehålla tryck så innebär det att brottet inte kan vara jätte stort. Dock för tidigt för att säga något säkert, vi håller alla andan!
Around 18: 27 March, 15 Local time
The status of Fukushima #1 power station was reported in the evening news as
follows. These are originally mentioned by Nuclear and Industrial Safety Agency
(NISA) or the chief cabinet secretary.
・Seawater injection operation is going on at unit-1, unit-2 and unit-3. NISA
presumed that these reactors are cooled in a stable manner through this
operation based on the fact that pressure inside is maintained.
・Fire at unit-4 was burned out naturally around 11:00. NISA expressed it's
intention to pour water into the pool immediately since fuel rods in the pool are
being heated.
・NISA described the possibility of damage to the suppression pool, which has
function of decreasing pressure inside the containment vessel.
・The chief cabinet secretary said that water temperature is steady increased in
the spent fuel pool at unit-5 and unit-6 at the press briefing held around 16:00.
・The chief cabinet secretary also mentioned radiation detected outside the
building. Numerical values he introduced were as follows.
8217 micro-Sv/hr(dvs 8,217 milli-Sv/hr – Johans anmärkning) at the border of the site
400 milli-Sv/hr in the vicinity of unit-3
Uppdatering 13:35
Ett falsk email cirkulerar just nu som påstås vara en BBC news flash. Detta stämmer INTE!
FAKE E-MAIL IN FULL
BBC Flash news : Japan Government confirms radiation leak at Fukushima nuclear plants. Asian countries should take necessary precautions. If rain comes, remain indoors first 24 hours. Close doors and windows. Swab neck skin with betadine where thyroid area is, radiation hits thyroid first. Take extra precautions. Radiation may hit Philippine at around 4 pm today. If it rains today or in the next few days in Hong Kong. Do not go under the rain. If you get caught out, use an umbrella or raincoat, even if it is only a drizzle. Radioactive particles, which may cause burns, alopecia or even cancer, may be in the rain.
Uppdatering 12:34
Stråldoserna runt reaktor 4 fortsätter vara höga
Reuters
TEPCO says there is radiation reading of 100 millisievert near the no 4 reactor building
Samtidigt går IAEA ut med detta på deras facebook sida.
Fukushima Daiichi Nuclear Power Plant Update
Radiation Dose Rates Observed at the Site
The Japanese authorities have informed the IAEA that the following radiation dose rates have been observed on site at the main gate of the Fukushima Daiichi Nuclear Power Plant.
At 00:00 UTC on 15 March a dose rate of 11.9 millisieverts (mSv) per hour was observed. Six hours later, at 06:00 UTC on 15 March a dose rate of 0.6 millisieverts (mSv) per hour was observed.
These observations indicate that the level of radioactivity has been decreasing at the site.
As reported earlier, a 400 millisieverts (mSv) per hour radiation dose observed at Fukushima Daiichi occurred between units 3 and 4. This is a high dose-level value, but it is a local value at a single location and at a certain point in time. The IAEA continues to confirm the evolution and value of this dose rate. It should be noted that because of this detected value, non-indispensible staff was evacuated from the plant, in line with the Emergency Response Plan, and that the population around the plant is already evacuated.
About 150 persons from populations around the Daiichi site have received monitoring for radiation levels. The results of measurements on some of these people have been reported and measures to decontaminate 23 of them have been taken. The IAEA will continue to monitor these developments.
Evacuation of the population from the 20 kilometre zone is continuing. The Japanese have asked that residents out to a 30 km radius to take shelter indoors. Japanese authorities have distributed iodine tablets to the evacuation centres but no decision has yet been taken on their administration.
Background on Radiation
A person's radiation exposure due to all natural sources amounts on average to about 2.4 millisievert (mSv) per year. A sievert (Sv) is a unit of effective dose of radiation. Depending on geographical location, this figure can vary by several hundred percent.
Since one sievert is a large quantity, radiation doses are typically expressed in millisievert (mSv) or microsievert (µSv), which is one-thousandth or one millionth of a sievert. For example, one chest X-ray will give about 0.1 mSv of radiation dose.
Uppdatering 10:56
Kyodo släppte just denna statusuppdatering och TEPCO sin statusmatris
Det ser ut som att de stora stråldoserna är på grund av branden/explosionen i bränslepoolen och inte reaktor nummer 2.
The following is the known status as of Tuesday evening for each of the six reactors at the Fukushima No. 1 nuclear power plant in Fukushima Prefecture, crippled by Friday's magnitude 9.0 earthquake and ensuing tsunami.
— Reactor No. 1 – Cooling failure, partial melting of core, hydrogen explosion, seawater pumped in.
— Reactor No. 2 – Cooling failure, seawater pumped in, fuel rods fully exposed temporarily, partial melting of core, damage to containment system.
— Reactor No. 3 – Cooling failure, partial melting of core, seawater pumped in, hydrogen explosion.
— Reactor No. 4 – Under maintenance when quake struck, fire caused by hydrogen explosion at pool holding spent fuel rods, pool water levels feared receding.
— Reactor No. 5 – Under maintenance when quake struck.
— Reactor No. 6 – Under maintenance when quake struck.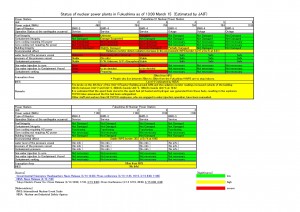 Uppdatering 10:45
Änligen positiva nyheter! Från Reuters live blog (scrollar hela tiden så nyheten kan finnas några sidor in):
Chief Cabinet Secretary Yukio Edano tells reporters radiation levels at the Fukushima Daiichi complex have fallen dramatically to 596.4 microsieverts per hour. That level is almost 700 times less than the levels reported in the morning, after two fresh blasts at the complex.
Uppdatering 09:15
Obekräftade uppgifter om kraftigt sjunkande strålningsvärden utanför Fukushima I når oss. Vi försöker få det bekräftat.
Uppdatering 08:53
Kyodo rapporterar att Edano rapporterar att vatteninpumpning i 1an och 3an fortsätter och att det inte sker kontinuerliga utsläpp från 4an. Återstår att se hur det ligger till.
BREAKING NEWS: Remains to be seen if water smoothly injected into No. 2 reactor: Edano
Uppdatering 08:22
Just nu kommer ingen vettig information ut överhuvudtaget. Det vi vet är att under natten skedde någon slags explosion som förmodligen skadade pressure supression pool, ringen i botten på reaktorn på bilden jag bifogat. Detta är väldigt allvarligt då det är en del av inneslutningen och därmed så finns det en väg direkt ut till omgivningen ifall reaktortanken, den ståltank som håller härden, havererar. Det innebär också att det kan bli svårt att hålla inneslutningen och reaktortanken täckt med vatten. TEPCO ger inga detaljer överhuvudtaget om orsaken till explosionen eller nuvarande statusen.
Ungefär samtidigt som nyheten om explosionen dök upp i japansk media så meddelade man också att det brinner i reaktorbyggnaden runt reaktor nummer 4. Reaktor 4 är en av de 3 reaktorer som redan var nedstängda före tsunamin och före branden har det inte funnits någon antydan till att TEPCO skulle haft problem där eller att kylningen inte fungerar. I samband med branden uppmättes väldigt höga aktivitetsnivåer runt reaktor nummer 3, upp mot 400 mSv.
Eftersom inget nytt rapporterats om inneslutningen på 3an så kan man bara förmoda att det något händer med bränslebassängen i 3an. Bränslebassängen är en bassäng där man låter använt bränsle ligga innan det skickas vidare till en längre tids förvaring. Bassängerna i den typ av reaktor som finns i Fuhushima är inte skyddad ovanifrån och står därmed öppen för väder och vind och ingen vet hur den påverkades av explosionen. Bränsleknippena i bassängen är inte lika heta som i reaktorn, men nog heta för att kunna börja brinna ifall de avtäcks. Med tanken på att det inte finns någon inneslutning så skulle en brand i bassängen kunna vara värre än en härdsmälta i härden.
Det verkar dessvärre nu som att TEPCO inte varit väldigt öppna med den informationen som de gett ut och därmed gett sken om att situationen är mer kontrollerad än den egentligen var. Många stora frågetecken finns just nu och det är omöjligt att veta hur allvarlig situationen är fören de har besvarats. Men med tanken på att förhöjda aktiviteter uppmätts i Tokyo så har något stor och allvarligt gått fel.
Länkar
http://aftonbladet.se/nyheter/jordskalvetijapan/article8713365.ab
http://dn.se/nyheter/sverige/expert-det-som-hande-i-japans-reaktorer-kan-handa-ocksa-i-sverige
http://www.svd.se/ego/mainColumn_s185/http://www.svd.se/nyheter/utrikes/radioaktiva-stralningen-har-okat_6006751.svd
http://www.dn.se/nyheter/varlden/brand-i-reaktor-fick-stralningsnivaerna-att-stiga