22:00(CET)/20:00(UTC)/05:00
Not much newsworthy to report today. JAIF report as usual on the status of the reactors. No new NISA update on the reactor status in English but in Japanese, some values are taken from IAEA rather than NISA. Links to graphs are links to the blog #FNPP1 and Irradiation. Pressure is continuing to rise in the number one reactor but still quite low. Seems like there is some kind of leakage out of the containment in number one, otherwise one would have expected higher pressure due to the nitrogen injection. Pumping of water from the number 2 turbin building basement is ongoing but slow, TEPCO say the work can take weeks.
Yesterday NISA released this info about how much activity has escaped from the Fukushima reactors and compare it to Chernobyl.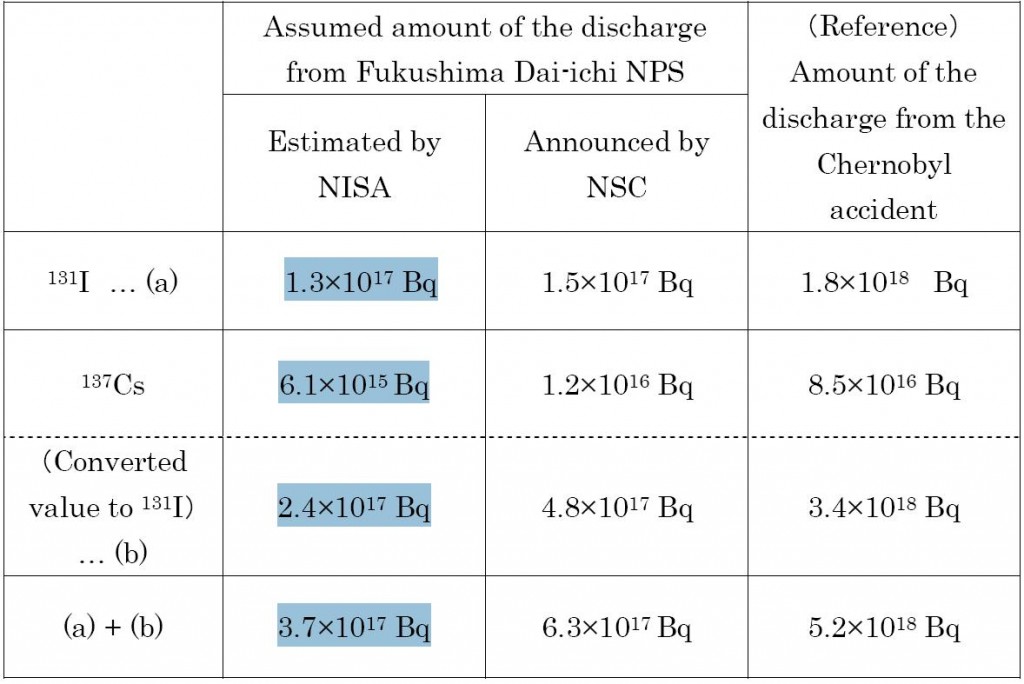 Like I said yesterday its roughly 10%. The move from 5 to 7 on the INES scale has gotten a lot of media attention, but what does it really mean? Nothing became worse yesterday than it has been, no dramatic event changed the rating etc. What happened is that NISA estimated that the release of I-131 and Cs-137 is beyond a treshold of what is considered "Major release of radioactive material" acording to the level 7 definition:
Level 7.
Major release of radio active material with widespread health and environmental effects requiring implementation of planned and extended ­countermeasures
That is all, NISA hasn't made any statement about health impacts. They certainly don't claim the effects will be as severe as the effects where from Chernobyl. One can at this point exclude the possibility that Fukushima will be as severe. So what are the differences?
In Chernobyl 134 workers got exposed to high enough radiation(over 1 Sievert) to develop symptoms of acute radiation sickness, 28 of them died during the first year following the accident,  two others died from injuries not related to radiation. A lot of kids got exposed to I-131 due to no quick warnings not to drink milk and no supply of iodine pills. 4000 kids got thyroid cancer and 15 died due to it. 600 000 liquidators where exposed to doses around 100 mSv.

In Fukushima so far 22 workers have been exposed to over 100 mSv, the highest getting 198 mSv, thus there where 30 000 times as many people exposed to 100 mSv or more in Chernobyl compared to Fukushima so far! The only two deaths at the power plant was direct deaths due to the tsunami. No one has died due to the nuclear accident itself, not from any of the explosions, not from radiation etc. Dose estimates for the people outside of the evacuation zone, especially the people within 30km, has not been given so far.

In Chernobyl the radionuclide release was directly into the atmosphere and it was going on for several days driven by the graphite fire. Other radionuclides than I-131 and Cs-137 could easily escape and was spread (even though Cs-131 is the biggest issue). The areas around Chernobyl where not quickly evacuated. The core blew apart due to a runaway chain reaction(a inherent weakness to that design that was well know, but the Russians ignored it and built them anyway),

In Fukushima it is still not entirely clear what caused the majority of release, it was either the venting of the containments or due to the breach in the number 2 wetwell. Regardless of the cause the atmospheric emissions was much smaller in magnitude, took place during a shorter time period, after the civilian population had already been evacuated! We are seeing pretty much only Iodine and Cesium(trace levels of other radionuclides have been detected, but no large release of them has been reported). The cores are largely intact, two of the containment vessels are likely breached but by far from cracked open like eggs. The cause of the emissions are partial meltdowns of the cores, a much slower process than the runaway explosion in Chernobyl. After the first few days of venting where over the majority of leakage goes into the sea, although that is not a "good" thing it is unlikely it will have any measurable impact on health. Anything going into the sea will get diluted fairly quickly. Even if the total release will increase to the same size as the ones from Chernobyl the different release path means it will have much less impact on public health or the environment.
Those two points alone mean that Fukushima is not another Chernobyl. The public health effects will not be as large and the environmental impact will be smaller. It remains to be seen how large surface areas have gotten high Cs-137 fallout, that will be the determining factor in how large areas will be unfit for farming or living on.
Links(English)
Reuters Japan struggles with nuke plan
World Nuclear News Fukushima workers start emptying trench water
Blogs(English)
Atomic Insights Rational Answer to Carl Pope's Dismissal of Nuclear Technologies
Depleted Cranium Shameful Reporting From the New York Times
NEI Nuclear Notes Wednesday Update
Atomic Power Review Boiling Water Reactors Part 1 and Part 2
Atomic Power Review Fukushima Daiichi developments… Tuesday evening
Atomic Power Review A couple of afternoon updates….
Links(Swedish)
Aftonbladet Tyvärr har jag fått rätt
SvD Fukushima inte lika allvarligt som Tjernobyl
Blogs(Swedish)
Den blinde Argus Kortsiktighet, instabilitet och populism
Begrundat och plitat Fukushima, risken för nya olyckor, och sanningens ögonblick
Tänkvärt? Eller inte Fukushima likvärdig med Tjernobyl.
SNF's blog Fukishima kan vara värre än Tjernobyl
Nolow Kärnkraftverk
Hovbergs blog Nukleära utrymningsområden<
Röda Berget Skräcken för strålning skapar nya offer
Harald i Uppsala Reflektioner 13 april
41 Comments